YWAM Lebanon, PA is a non-profit Christian organization and God's provision for our operating costs keeps us going.  Training fees cover the basic costs of a particular program, including room and board.
PAY FEES FOR:
 (Application Fee, Course, Outreach, Mission Bridge, etc.)
If you prefer to make your payment (or donation) via PAYPAL, use the yellow button below:
In order to cover the server transaction fee, please consider adding 3% to the amount you are paying.  Thank you.
You can also support YWAM Lebanon in this easy way–make your purchases work for the kingdom!  Try it!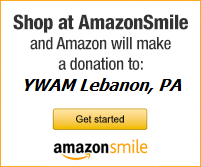 Tax-Deductibility
Youth With A Mission, Lebanon, PA is a registered non-profit organization and all donations are tax deductible.  However, fees for training are excluded as they are a payment for a service. We acknowledge and receipt all gifts monthly and/or annually. In accordance with IRS guidelines, Youth With A Mission Lebanon, PA has complete control and discretion over the use of all donated funds, although every attempt is made to honor a donor's wishes.
Bibles 4 Kids!
For the past several years, we have been able to give over 500 Bibles as Christmas gifts to local school children.  It has been great to see so many kids crowding in to get Bibles!
Will you join us to 'End Bible Poverty' in our city?  Just $10 will purchase one Kid's Storybook Bible!
Make your donation today to give the gift of the Word of God…in words that a child can understand!
DONATE NOW and allocate your giving towards Bibles4Kids!