Crossroads Discipleship Training School (CDTS)
February 3 – June 20, 2014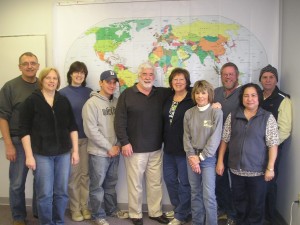 Are you above 30 years of age and feeling like you're at a crossroads?
Are you looking for:
a deeper walk with God?
a new direction for your life?
a new vision of who you are in Christ?
a taste of cross-cultural ministry?
The Crossroads Discipleship Training School (CDTS) is designed for people standing at a crossroads in their lives. It is for people who long to know God's heart, to hear his voice in increasing measure, and to walk in increasing spiritual authority.
The Crossroads DTS is formatted to meet the needs of adults ages 30 and over – singles, couples, and families with children. We offer childcare and a school aged children's program designed to cover many of the same topics being taught in the CDTS course.
Course Design
Phase 1: Lecture Phase
CDTS begins with approximately twelve weeks of lectures. Each week a guest speaker presents a topic, such as:
the character and ways of God
prayer and intercession
the Divine Plumbline
keys to healthy relationships
how to hear God's voice
evangelism and missions
the extravagant love of God
spiritual warfare
Times of corporate worship, intercession for the nations, small group interaction, weekly opportunities for service and regular visits by missionaries all contribute to the vitality of our community life as we seek God together.
Phase 2: Outreach
After the lecture phase, students participate in a two month field assignment. This is a short-term mission trip often focused on the Ukraine. Our last school also visited Albania. We work together with local churches and Christian groups to serve, to disciple, and to evangelize. Students are encouraged to engage in a number of different Christian activities and to use the gifts God has given them.
The CDTS is much more than just a school or a change of pace. It will provide opportunities for personal wholeness, restored relationships, and vital Christian service.
Community Living
Community living is part of the YWAM tradition. We live together and eat together. Everyone participates in the work duties of the community. We expect our students and staff to participate in the life of the community and to respect one another, giving preferences to one another in love.
Cost
Lecture Phase costs $3500 USD (including a $500 conference fee which is refundable if the DTS does not attend a conference) and the Outreach Phase costs $2800 USD for a total cost of $6300 USD. Included are housing and meals as well as airfare from Lebanon to the outreach location. A $75 non-refundable deposit is due with your application.
Dates
February 3 – June 20, 2014
---
A note about credits: The DTS (lecture and outreach) is the entry-level course for the University of the Nations (UofN) and is a prerequisite for taking most other courses from the UofN, or for joining a YWAM base as staff. Approximately 20 undergraduate credits are granted from the UofN to each student who successfully completes the DTS lecture phase and outreach. For more information about the UofN visit:
http://www.UofN.edu
Have any questions?
Please fill out the form below and we will get back to you as soon as possible. Thanks! Or feel free to give us a call or an email! Our contact information is located at the bottom of the page.